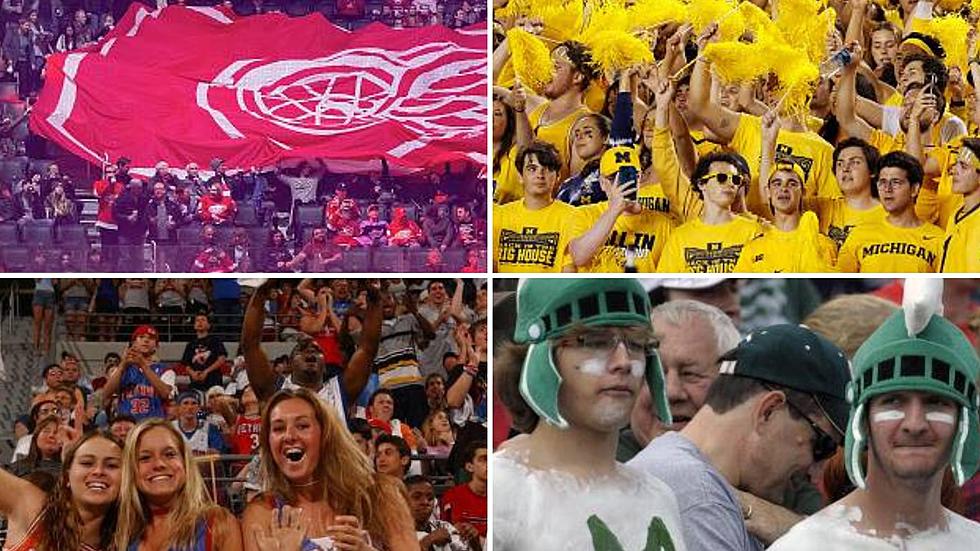 The 10 Commandments To Being A Michigan Sports Fan
Canva/ Dave Reginek Allen Einstein Icon Sportswire Al Messerschmidt Getty Images
Living in Michigan almost guarantees that you will be drawn to sports and become a fan of one of the various sports teams that occupy the land. Of course, everyone isn't into sports but the Michiganders that enjoy sports are diehard fans. Being a fan of a sports team in Michigan is a personality trait and for some individuals their entire personality.
From the Detroit Pistons, Lions, Tigers, and Red Wings to the University of Michigan and Michigan State, fans will go to the furthest of lengths to support and show love for their team. From dressing up from head to town in team colors and fight songs as ringtones to buying merch and attending every game, there are tons oof superstitions and rules to being a sports fan in Michigan.
Obviously, there are no clear-cut rules on what qualifies someone as a Michigan sports fan, but residents of Michigan have their unsaid and unwritten rules that are telltale signs of a true fan.
We all know the most important, which is hating Ohio. Other than disliking all sports teams from Ohio, here are the rest of the 10 Commandments to being a Michigan Sports fan.
10 Commandments To Being A Michigan Sports Fan
10 rules that are unspoken or unwritten but will show that you're a true Michigan Sports Fan or lack thereof.